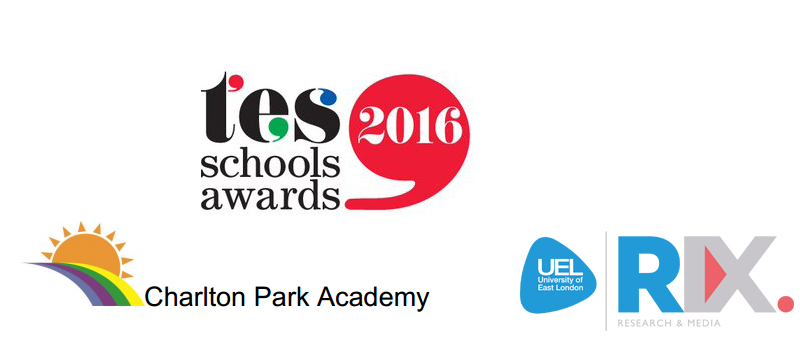 Rix Research & Media is delighted that Charlton Park Academy has been shortlisted in the prestigious annual TES Schools Awards, in the Alternative Provision category.  This category recognises the invaluable support to pupils offered by these schools, which make sure that children who may not be able to attend conventional school do not go without the great educational experience they deserve.
Charlton Park Academy is a successful secondary special academy in Greenwich that offers a high quality, individualised approach to education to students with special educational needs.  It has been working with Rix Research & Media for over three years, to embed a Multimedia Advocacy approach through the use of Rix Wikis.
Wikis are simple, accessible, secure and easy to build personal websites which can be used to create multimedia person-centred plans that use pictures, words, video and sound to capture the voice, skills, aspirations and needs of the child or young person.  Too often, the focus can be on the limitations placed on someone by their disability but a Wiki can help children and young people build a detailed picture of who they are – what and who is important to them, what they like to do, how they communicate and how they see their future.  The focus is positive, highlighting their strengths and ambitions.
In 2014/15, Charlton Park Academy fully adopted Multimedia Advocacy and now uses Rix Wikis for all 240 of the pupils in the school. The Wikis have produced genuinely positive outcomes for the students and their families. Students enjoy greater independence, increased self-advocacy, better engagement and boosted self-confidence. The Wikis have improved the home-school partnership and support parents, teachers and health professionals to communicate and collaborate effectively by sharing a wide range of information.
In 2015, Ofsted twice cited Rix Wikis as examples of good practice, in the inspection report for the school:
"The school has … develop[ed] safe online individual forums, called 'wikis', for sharing plans and achievements. These student-led and created websites have enabled grandparents living overseas to also share in the celebrations of residential students' progress. This technology and empowering process gives control of plans to residential students and means that students can define their own identity, hopes and aspirations."
"Wikis are person-centred and empowering, as students can share information, express themselves and celebrate their progress and achievements in a safe way."
Gosia Kwiatkowska, Research Centre Manager for Rix Research & Media, said:
"I am thrilled that the fantastic work of Charlton Park Academy – and the pioneering approach of its staff in supporting the students to realise their hopes and dreams – has been recognised by its inclusion in the TES Schools Awards 2016 shortlist.  We at Rix are so proud of all that Charlton Park Academy has achieved and believe it would thoroughly deserve to win.  We wish the school all the best for the big night."
Charlton Park Academy, said:
"We are delighted to have been shortlisted for the TES Award! What a brilliant opportunity for us to celebrate and share the work of staff, students and families in their use of Rix Wikis and how this work is truly empowering and engaging everyone in putting the students at the centre of all that we do"
[/spb_text_block]