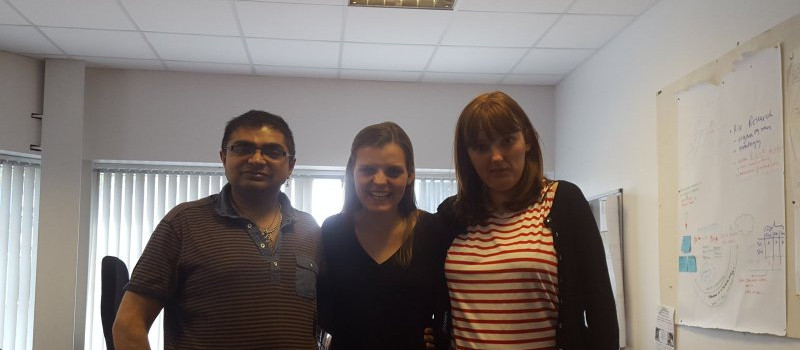 My name is Sophia Schwarze and I am a student at the Health Professions school at Samford University in Birmingham, Alabama. In the spring of 2016 I was given the opportunity to study in London. It was my advisor who encouraged me to apply for an internship. Being only a second year in university I knew that finding an internship would be a bit more difficult. Although I am studying to become an Occupational Therapist, it was my passion for working with individuals with intellectual disabilities that opened the door to a small organization called Rix Inclusive Research.
Rix Inclusive Research is a company out of the University of East London that uses Multimedia Advocacy and person-centered planning to promote self-advocacy and human rights of individuals with intellectual disabilities. Having done a lot of work in this community I was somewhat aware of the various technologies used to help individuals with communication but 'Multimedia Advocacy' and 'person-centred planning' were concepts that I had never heard of. When I was first given the notification that I would be interning with Rix I was both excited and nervous. I had never interned before nor had I ever worked in an office.
It became clear very early on that there would be no micro-managing from the staff. On the first day I was given an assignment and everyone went back to doing their own work. At first I felt I might be uncomfortable with this approach but it was this trust and independent environment that really pushed me to become both more confident and more comfortable in my abilities. I never realized how much I relied on the direction and the confirmation of others. Sure I am a perfectionist and I want to make sure that I am doing the work properly the first time but Rix showed me that being confident in one's own work and abilities from the beginning makes for a more productive and better employee.
Rix provided me with incredible opportunities both in and out of the office. I was given the opportunity to go out on my own and conduct interviews with Wiki users. Although it is primarily used for people with special needs, the Wiki's function has been modified for a variety of different groups. Recently the Wiki has made its way into the mental health community. Whether it is being used as a personal recovery plan or as a communicative aid, the functions of the Wiki are designed to best suit the needs of the individual. One of my main tasks was to write case studies of individuals using wikis within the mental health field. It was incredible to see how a single product could be transformed to fulfill the personal needs of one individual. Having never conducted an interview before I had a lot to learn but of course with practice comes knowledge and eventually skill. Through the interviews I was able to meet some incredible people and see the Wiki being used in everyday life scenarios. I learned how to ask questions, how to gather material, and how to compose it into an article that truly reflects the individual's story and feelings.
One of my favorite opportunities was being able to work with Ajay. Ajay, also known as the Wiki Master, is an employee and spokesperson with learning difficulties at Rix. Recently Ajay had been enrolled in a European Computer Driver License course which covered computer software programs such as Microsoft Word, Excel, Powerpoint, and Project. On Wednesday afternoons Ajay and I would go through the modules and quiz questions together talking things through and coming up with fun ways to memorize the material. Working with Ajay was not only fun but it gave me a glimpse into the kind of work I would be doing in the future and I have to say I am pretty excited.
Communication is something we use everyday and often we take it for granted. For those with intellectual disabilities or mental health challenges, being able to communicate can be difficult. Rix has dedicated itself to improving the lives of these individuals by giving them the tools they need to vocalize their thoughts, needs, and aspirations. Whether it is through video, picture, or text, every person deserves to have a say in their own lives and wellbeing.
Rix is something really special. The work that they do and the people they serve says a lot about the kind of people who work within its walls. Although it is a small team, everyone is extremely hard working and supportive. They have taught me so much and they have given me so many opportunities to be apart of something so much bigger than myself. It has only been three months but I am going to miss seeing the people here and I can not wait to see what amazing thing they do next.