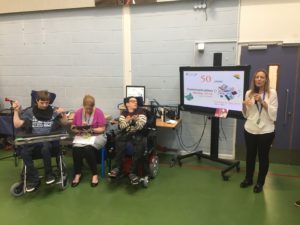 Research & Media were at the Communication Works 2018 conference at Charlton Park Academy, showcasing Rix tools and projects alongside cutting edge leaders in the field of assistive technology. The event, which took place on 25th May, was a large gathering of organisations and individuals disseminating and celebrating technology that continually improves, assists, and includes.
 Representatives from Rix talked to conference attendees about our exciting work on the as part of which we are working with students at Charlton Park Academy testing the Mathisis software. The innovative software has a unique algorithm that has been developed to work with a camera to capture the 'affect state' of the learner and then adjust their learning tasks appropriately, with the aim that learning becomes individualized and more effective. Rix intern Ramsey Hufford generated a lot of interest for the project by demonstrating how the Mathisis application can be used to build and achieve learning goals.
Rix Wiki Master Ajay Choksi also walked people through his Rix Wiki, illustrating first-hand how it has helped himself, and others to become self-advocates. People really enjoyed exploring Ajay's Wiki and being able to look at all the pictures,watch the videos, and hear the audio he uses on the Wiki to tell his story.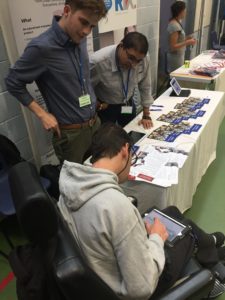 Other exhibitors on the day demonstrated their assistive technology and ran breakout sessions showing how their technology works and can be adapted to individuals. Conference organisers CENMAC had set up a small museum exhibit showing the history of assistive technology since their organisation began in 1968. The museum was shocking, opening the eyes of attendees to the terrible conditions that people with any disability lived through. The museum showed how radically this technology has improved in the last 50 years, and it made us all hopeful for the changes to come. For example, Jim Bowen from C-Pens was presenting on how the C-Pen functions to assist people with dyslexia, or partial sightedness to read. The technology within that small device was astounding, and it is immediately clear how the device could assist everyone in a classroom and build their confidence with reading.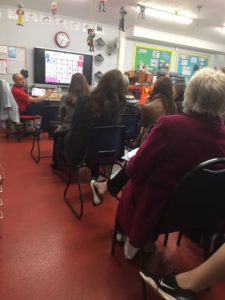 Multiple people presented on different types of Augmentative and Alternative Communication (AAC), ranging from applications to devices dedicated to the pre-installed AAC softwares. Companies like Crick Software Ltd, Smartbox, and Tobii Dynavox demonstrated how their assistive technology is able to empower people to communicate and instantly impact their quality of life.
In short, Communication Works 2018 brought together many organisations and individuals, creating a wonderful environment for learning about inclusive methods and tools and exchanging of ideas. A lot of exhibitors and attendees were excited to hear about the work of Rix Research & Media and we in turn were excited to learn about other projects that are using technology to empower and enable self-advocacy.
Article by Ramsey Hufford